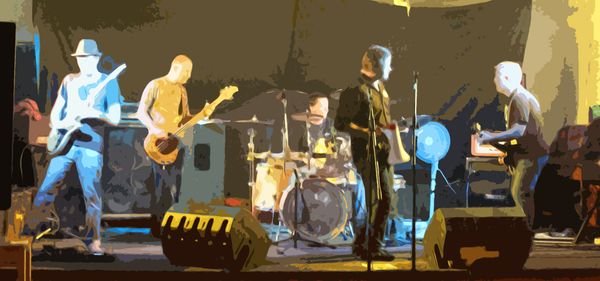 "

Out standing in their Field"
— Mad Cow
Mad Cow formed in Taranaki NZ in the mid 90's, evolving from New Plymouth
school band "No Comment" and has been producing original Indie-Rock music
ever since, releasing four CDs since 2000, and the Single "Alone" in 2021.
Always striving for originality and proudly independent, Mad Cow record and mix
their own songs and produce videos under the label "Pigpen Studios".
Same Boat was recorded over 2021-22 with many challenges, taking longer than
the band would have liked.
Mad Cow has had many songs on local NZ radio and is playlisted on The Most FM,
they have also played at the local Festival of Lights and performed live in
Melbourne VIC.
"Same Boat" is the latest single to be released by Mad Cow (Dec 2022)
This is our first EP called See. It has the songs See , Reefer , Pigpen and Mistrusted.
  Take a Breath, I Won't Break , See Through You and Been Around the World are the four tracks on the EP and it was released in 2010.
Disturbing the Peace is the third EP in our Trilogy haha .It features the songs Bigger Stuff,Dog with a Bone,Stop the Noise and Disturbing the Peace.


MAD COW ALBUM 2019

Mad Cow MAD COW is our first full length CD. Produced during 2016-2018 it contains eight songs, Who I Am, Borderline, Timebomb, Jimmy Can't Sleep, Show of Hands, What's This All For, Anzac Day and Back Home. Several Videos have been made for songs from this album including Anzac Day and What's this all for.
Recorded 100% Kiwi Style at Pigpen Studios, our second Record with Jon singing.
Fast forward to 2021. Jon and recorded a new single called "Alone"
Artwork as always granted permission by Michael D Smither.
THE FUTURE
New Single SAME BOAT out Dec 2nd, 2022 (available now on only our music page)